The 5th Global Conference for the Elimination of Child Labour was a hybrid event. However, only invited Delegates were invited to Durban. Read on for more practical information provided to Delegates ahead of the conference.
Sign up for our newsletter to stay updated about future events around the topic of child labour.
How to download
It has all the important information you'll need for the event as well as features to enhance your event experience.
Step 1: Download 
The first thing you'll need to do is download the app on the device you're bringing to the event.
Don't have iOS or Android? Skip Step 1 and go straight to Step 2 to verify your account and use the mobile web version of the app.
Step 2: Verify 
View the email using the same device you used to complete Step 1. Click Verify Account to unlock all of the app's advanced features.
Registration and accreditation
How to attend
The Conference will start on Sunday, 15 May 2022 and conclude on Friday, 20 May 2022. The meeting will be held at the Inkosi Albert Luthuli International Conference Centre in Durban, KwaZulu-Natal Province. The deadline for registration is 20 April.
Inkosi Albert Luthuli International Conference Centre (ICC)
45 Bram Fischer Rd
City of Ethekwini (Durban)
South Africa
Accreditation will take place from Thursday, 12 May and access badges will be issued at an offsite venue (Hall D, E, C).

Consult the Accreditation Advisory and the Media Advisory for more information.
What is required
A valid passport or appropriate travel documentation is required to enter South Africa. For information on entry requirements, delegates should contact the closest South African Embassy, High Commission or Consulate.  
Attendees who need a visa to travel to South Africa must take the necessary steps to apply for one as soon as possible to ensure their application is processed in time for their journey. 
As of 23 March, travelers entering South Africa will need to show either proof of vaccination or a negative PCR test not older than 72 hours.
Check the current South African visa requirements to find the latest information for your country of origin.
To facilitate the visa process you can download this letter and attach it to your visa request.
In case of questions, please contact Ms Reen Moodley Reen.Moodley@labour.gov.za. +27 82.678.9195 (Only WhatsApp)
Where to stay
In order to suitably accommodate meeting participants, block reservations have been arranged at a selection of hotels. You can view them here.
If necessary, participants may also find more than 3,600 hotel rooms located within a 10-minute walk of the Durban ICC. Browse the hotels recommended by the venue or simply start your own search on a popular website like Google or AirBnb.
 
How to move
The local transport authority runs a bus service called the People Mover that operates a city loop and a beach line. It runs from 5:00 to 22:00. For fares and timetables, visit Durban's Muvo website.
You can hail a metered taxi cab through a reputable operator such as Ivory Cabs or Eagle Cabs. You must book by phone from a specific location.
Renting a car is one of the easiest ways to get around Durban, especially if you want to explore the surrounding region. Car hire operators include Avis and Hertz.
If you fancy a beachside cruise on two pedals, you can rent a bike (and beach equipment!) from Bike and Bean. The store doubles as a coffee shop.
What to know
Visitors to South Africa must wear a face mask that covers the nose and mouth when in a public place, including public transportation. All employers must adopt measures to promote physical distancing of customers and employees, provide hand sanitizers, and respect hygienic conditions to limit exposure to COVID-19.
Any person who is a confirmed laboratory positive COVID-19 case and is asymptomatic is not required to isolate. Any person who is a confirmed laboratory positive COVID-19 case and is symptomatic must isolate him/herself for a period of 7 days, unless a longer period is recommended by a medical practitioner.
Gatherings are restricted to no more than 1,000 people indoors and no more than 2,000 people outdoors. 
This information is subject to change and delegates are encouraged to regularly consult the COVID-19 page of the South Africa Government website.
What to pay attention to
On foot
Grasp bags firmly under your arm;
Don't carry excessive sums of money on you;
Don't leave valuables exposed (on a seat or the ground) while having a meal or drink;
Don't let strangers get too close to you – especially people in groups.
In the streets
Lock all your car doors;
Look out for pedestrians and animals on the road;
Never leave anything worth stealing in view when your car is unattended.
At the beach
Only swim at designated swimming beaches, with life guards on duty – do not swim at night;
Do not swim after drinking alcohol;
Take only the bare essentials;
Don't leave valuables, especially cameras, unattended;
In general
Don't carry a camera openly in the city;
Avoid wearing jewellery, expensive watches or designer shades;
If you're accosted, remain calm and be co-operative;
Be extra careful at ATMS.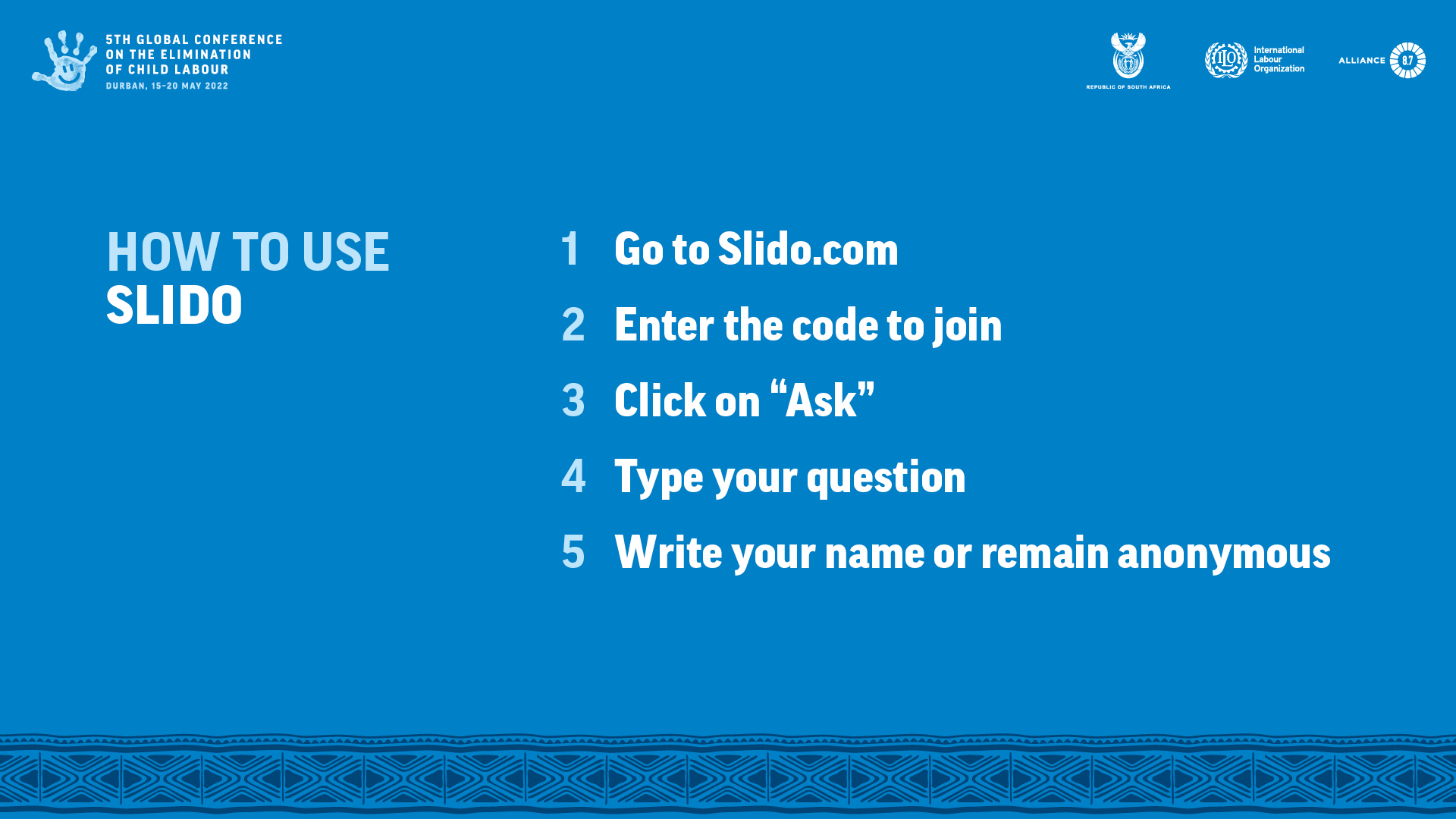 1. Go to Slido.com
2. Enter the code to join
3. Click on "Ask"
4. Type your question
5. Write your name or remain anonymous
Durban, "the warmest place to be," is full of excitement, from cultural sites full of local heritage to museums and parks for relaxing during your downtime.
Here is a short selection: